Joint Treatment Facilities Committee
Welcome to the Joint Treatment Facilities Committee page. We are a liaison between treatment facilities and the local A.A. community. Our mission is to support A.A.'s primary purpose — to stay sober and help other alcoholics to achieve sobriety — in treatment or in-patient settings.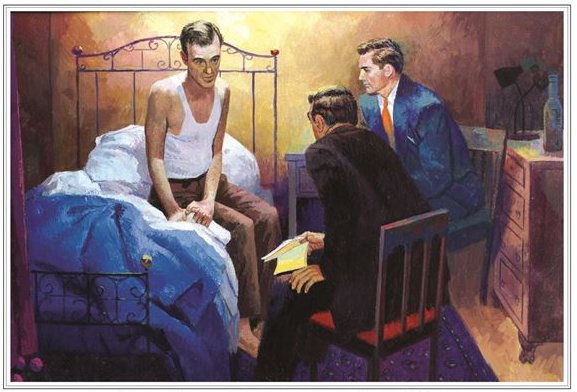 © AA Grapevine, Inc. Reprinted with permission.

The committee works hand-in-hand with local AA districts, groups and members who are "the boots on the ground" to carry AA's message into treatment settings. The committee provides ongoing communications, scheduling and materials to support this mission. For a pamphlet fully describing A.A. in treatment settings: Click Here.
Information for Professionals
The committee offers a variety of resources to support AA work in treatment settings.
Mobile App
The resources listed above and others are available in a mobile app for easy reference:
Information for A.A. Members
The Joint Treatment Facilities Committee provides districts, groups and members with resources and ways to get involved. For those willing to help, you may:
Join the committee and assist the committee chair(s).

Volunteer to take a treatment facility commitment.
Join the Committee
The committee is composed of AA members who may serve for a 1 to 2 year term. Committee meetings are conducted with the Area 30 Joint Treatment Committee, see the Area 30 Calendar for the Area 30 Treatment Committee meeting dates and times.

Committee Chairs:
Worcester Area Intergroup Treatment Chair: Jean O
District 25 Treatment Co-Chair: Matt S
District 26 Treatment Co-Chair: Fred F
Take a Commitment
Members are needed to take commitments on a one-time or recurring basis. To help, you can:
Committee Resources